This is the transportation plan that elected officials chose for citizens in DFW. This is what they want EXEMPTED from the 2 year toll road moratorium!
During the 30 years (2000-2030),
the RTC (Regional Transportation Commission of the NTCOG) and TxDOT propose
to add 675 miles of managed lanes (TOLL FREEWAYS and TOLLED HOV LANES on existing Freeways) in the DFW region.
They only propose
adding 70 additional miles of NON-TOLLED FREEWAYS!
They are planning to sign
50 year contracts for these tolled managed lanes and toll roads!
EXEMPTING DFW from the 2 year moratorium is
BAD if this is the BEST THEY HAVE TO OFFER!
The legend is hard to read. It says that:
Green is proposed New Toll ways
Blue is proposed extensions of existing freeways/toll ways or improving existing highways/freeways by adding HOV toll lanes
Black is freeways/toll ways
Red is non-tolled freeways.
From 2000 to 2030 the Regional Transportation Plan for DFW:
2000
25 miles of existing toll roads built and managed by public toll authority
2030
675 miles of managed lanes and toll road under CDAs (Public private partnerships with 50 year contracts financed at higher rates than public bond and with higher tolls to generate "SURPLUS TOLL REVENUE" for investor return on investment (profit) and up-front payments to the RTC for use on non-toll projects).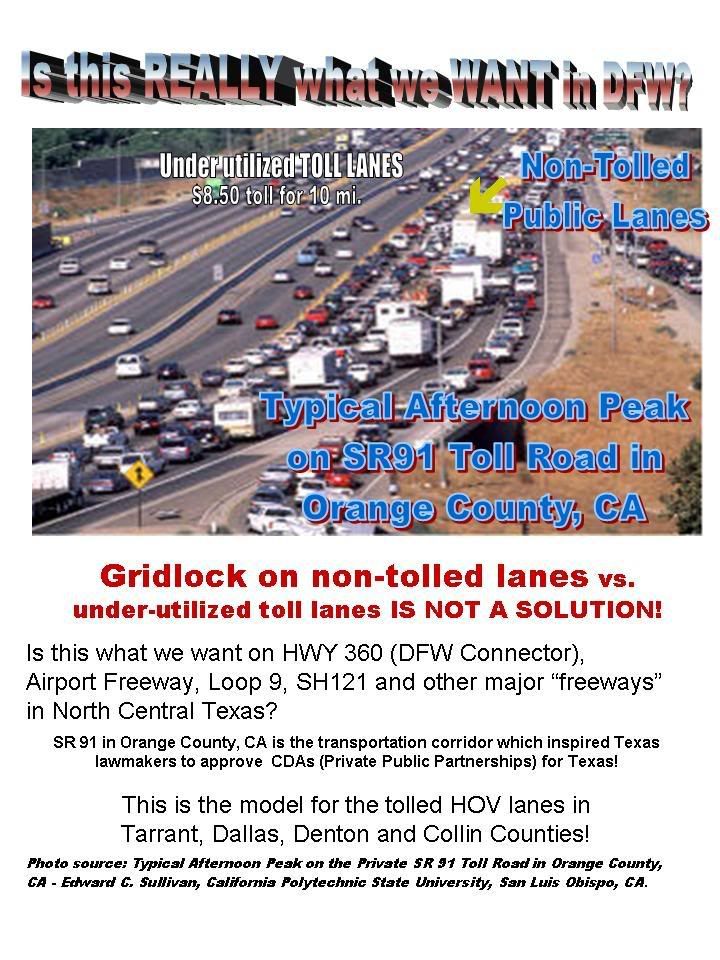 Those who developed and favor this plan argue that there is no other way to build the roads. However, there has been expert testimony this spring in Austin at House and Senate Transpiration Committee Meetings that says that Texas can build and maintain necessary highway infrastructure without PUBLIC PRIVATE PARTNERSHIPS (CDAs).
Steve Odgen who authored the CDA enabling legislation has testified that the contracts proposed by the DFW RTC for SH121 and other toll projects using 50 year contracts with private partners is
NOT WHAT THE LEGISLATURE intended when they passed the legislation.
Sen. Odgen testified that
there is sufficient funding available to Texas through the PUBLIC BOND MARKET for Texas to build and maintain the necessary highway infrastructure.
Odgen states that
financing road with public bond money is less expensive
than financing it with private money (CDA - private public partnerships).
Gov. Perry's Taskforce on Transportation reported in Nov. 2006 that there is sufficient bond money available for the State to build the necessary projects without using CDAs.
Cintra (the private partner proposed for SH121 and the Trans Texas Corridor) offers their investors a 12% return on investment. The State of Texas can borrow on the bond market for much lower interest rates!
Pat Choate, a Washington D.C. based economist who is an expert on roads and public infrastructure, explained the bond market to me last week. Pat says for every dollar the state has, it can borrow at a rate of 1:5. That means that one dollar of public money is put into a project for every four borrowed dollars. In Texas over a billion dollars has been identified that was designated as transportation tax revenue but was diverted to other uses by the legislature. If that billion dollars was returned to Transportation, and the Legislature voted to index the gas tax so that it retains the same buying power despite inflation, there will be sufficient money by borrowing on the bond market and ending the diversions and indexing the gas tax to generate $110 billion dollars over a 30 year period. Originally Gov. Perry estimated that the state was short about $86 billion in transportation funding. His taskforce on transporation revised that estimate down to $44 billion in their November 2006 report. They get this estimate by targeting a desired traffic count index for transportation corridors.
Testimony in Austin has prompted the majority of State Representatives and State Senators to vote on a 2 year moratorium on toll roads to give time to fully assess the premises for the proposed CDA public private partnerships for toll roads.
HOWEVER, through pressure from local elected officials, the NCTCOG, RTC and some of the state representatives and state senators from this region, the 2 year moratorium legislation EXEMPTS DFW toll projects from the moratorium
Citizens from this region DESERVE THE SAME PRUDENT RE-EVALUATION OF TOLL PROJECTS which is being given to residents of other regions of Texas.
If the RTC and TxDOT signs contracts with Cintra or other private partners for 50 year managed lane project, they propose:
for citizens to pay tolls on 675 additional miles of toll lanes in the DFW region.
When the legislature "fixes" state transportation funding they will probably index the gas tax. Citizens in other regions will get their state highways paid for with gas tax money and public bond money while citizens in the DFW region
will be paying tolls on our state highways and still have to pay higher gas taxes once it is indexed.
Citizens in the DFW regions will still have to pay to help retire the state highway bond debt used to build state highways.
We understand that every day highway construction is delayed the cost escalates. However, right now, it is prudent to DELAY finalizing contracts with private partners for projects in the DFW 2030 mobility plan until state and local lawmakers thoroughly re-evaluate public funding options vs. private/public partnership toll proposals and TxDot planning and management practices. Cost/benefit analysis should include inflation. When inflation is weighed, the impact of profit and surplus upfront toll revenue as passed on in shipping costs to the consumer at the cash register must also be factored into the formula. We need to know the MAXIMUM toll that can be charged under any long term contract. That will allow us to gauge how much we are committing future generations to paying to use public infrastructure.
Toll contracts that allow toll rate increases every two years for 50 years based on unknown rates of inflation and unknown consumer price indexes commit children who have no voice in the contract to paying the highest fees. One agency reported to the Senate Committee on Transportation that the estimated toll for driving SH121 in Denton and Collin Counties during the 49th year of the proposed contract would be $75.00 a trip!
I asked Mike Eastland, Executive Director of the NCTCOG what the RTC's estimation is for the 49th year. He told me that they have only projected tolls for the first 4 years. The RTC, who is developed the 2030 plan and who works with TxDot in oversight of the contract for transportation in this region, plans to finalize the contract without knowing what the tolls will be in the last decade of a 5 decade contract. I don't think this is good enough.
I think that citizens should ACT NOW.
We should
push the legislature and Gov. Perry to SOLVE Texas's public transportation funding problems.
We should push the
governor to call a special session on Transportation Funding.
We should call every
county commissioner and city council member in the 16 counties of the NCTCOG and demand that INSIST THAT THE RTC (of the North Central Texas Council of Governments) and TXDOT WAIT until CDAs are re-evaluated before signing 50 year contracts for toll projects in the DFW region.
We should
demand that the NCTCOG, RTC and TxDOT inform the public of the cost of Tolls in the 49th year of proposed 50 year contracts BEFORE the contracts are signed.
(Currently TxDot and the RTC have only projected tolls 4 years and stated that they will escalate every 2 years at the rate of inflation and CPI. That is not good enough.
Citizens deserve to know how much it will cost our grandchildren to drive on these proposed toll ways near the end of the contract before elected officials and their appointees who serve on the Regional Transportation Commission and TxDot officials COMMIT to these revenue generating schemes.
We should tell every senator and every state representative and every city council person and every county commissioner that
exempting DFW from the 2 year toll road moratorium was not fair to us.
Roads may be built faster in this region... but citizens will probably pay much more for much longer than citizens in other regions of Texas will have to pay for transportation on state highways.
If other regions solve transportation gridlock in their regions with gas dollars and public bond money while DFW commits to building 675 miles of managed toll lanes on 50 years contracts, this region will be at a competitive disadvantage. Who will choose to live and work in a region where all major roads are tolled when they can locate in regions that used bond and gas money and demanded REAL PUBLIC SOLUTIONS FOR PUBLIC INFRASTRUCTURE from Texas lawmakers?
If merchants and manufacturers in the DFW region have to pay tolls to receive and ship goods in this region, while their competitors in other areas are able to utilize non-tolled highways for shipping, the cost of living and doing business in this region will be significantly higher than in other regions. This will not be good for consumers or for businesses. Increased shipping cost and its impact on inflation at the check out counter may exceed the increased construction costs cited as the reason that these highway construction projects should start immediately instead of waiting until the 2 year cooling off period prescribed in the toll road moratorium.
Costs have not been carefully weighed. The economical impact of these projects is much more complex than merely weighing the rising cost of construction over time. Escalating construction costs must be weighed in relation to the differences in the impact of inflation on the economy between lower cost public bond funding and borrowing from private entities at higher interest rates and tolls which generate "surplus toll revenue." It is shortsighted (myopic) to consider one without weighing the other.
Taxpayers understand that we have to pay for roads. We deserve to know that we are paying the least that is possible for the best roads possible. Public bonds are usually retired in 22 to 30 year periods. Private public partnerships are for 50 year terms.